Aqua Hot Wash is a professional service provider offering a dynamic range of pressure washing and power sweeping services. We bring with us a passion for our community and a comprehensive knowledge of our industry, helping you resolve your needs now and prevent issues in the future.
Having lived here for over 40 years our leadership team knows the Okanagan and all our seasonal challenges. Let our expertise help your fleets, properties, and equipment shine.
Founded in 1989 by Richard Woolley, Aqua Hot Wash has grown to become a multi-generational family owned and operated cleaning services company.
With 57 years of combined experience in this industry in our management team alone, you can trust that we know how to take care of you. Utilizing the best equipment and products available, we can confidently serve you, our customers, knowing we will meet the highest expectations.
We offer a wide range of services for all your pressurized water cleaning needs. From construction lots to the siding on your home, we will take care of you professionally and efficiently. You can expect the right solutions to your needs from a qualified team with superior industry experience. From your initial inquiries to completion of our job, you can expect our complete customer satisfaction.
Do you thrive on goal oriented results? Do you feel a strong sense of satisfaction from leaving something better than you found it? Do you mind getting a little dirty or wet while you work? You should consider a career with Aqua Hot Wash! Our team is our family. You take care of our business and our clients and we will take care of you. Inquire today for open positions, rates, and benefits packages!
Full Service Pressure Washing Vehicles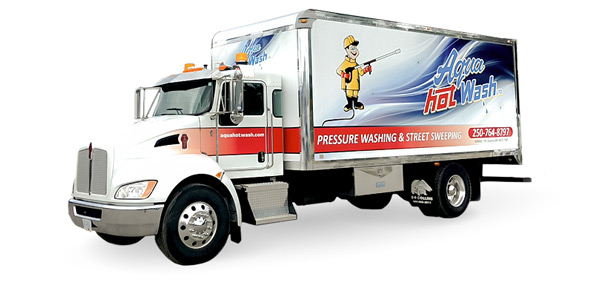 Aqua Hot Wash's fleet includes four of our fully equipped Pressure Washing Service Trucks. Our trucks are fully equipped to take on any of our clients projects throughout our service region.
Street Sweeper and Vacuum Trucks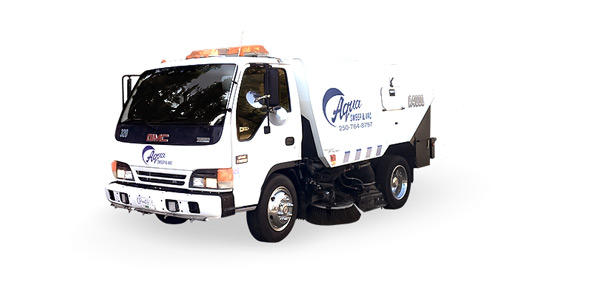 The Aqua Hot Wash fleet also includes two specialized Street Sweepers which allow us to easily clean street and parking lot surfaces. Our sweepers include a vacuum system which makes the pickup of debris a breeze.
Drain & General Service Vehicles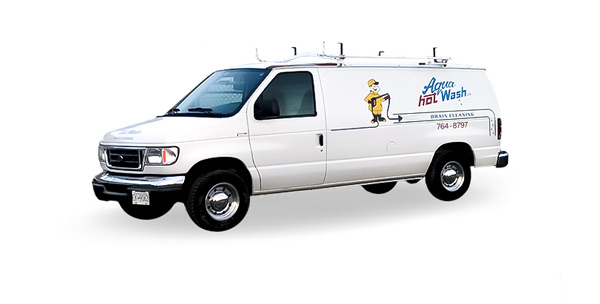 Our fleet includes our drain cleaning and general service van. This vehicle is equipped to help clear drain obstructions with a wide variety of specialized tools.
Parking Structure and Property Cleaning Equipment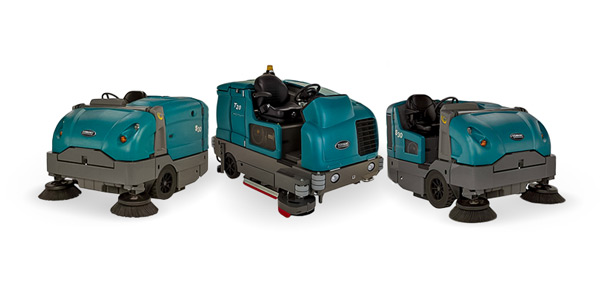 For specialized service areas such as warehouses, parkades, or underground parking structures we employ our Industrial Scrubbers and Sweepers. These units allow us to work in environments which may have height or width restrictions. Aqua Hot Wash currently has three of these units in service.
Based in Kelowna, Aqua Hot Wash services cities and communities throughout the beautiful Okanagan Valley. Our unique climate gives us a paradise to play in! Provincial parks, filled with forest, to beaches on the waterfront of Lake Okanagan, we are surrounded by Mother Nature.
Our multi-generational history in the Okanagan gives us unique insight into the challenges facing all property and business owners here. Here to serve you throughout the Valley, Aqua Hot Wash will arrive at your door from Penticton to Vernon, and you can count on our friendly and experienced team to see you through all your needs.
Armstrong
Coldstream
Enderby
Kelowna
Lake Country
Lumby
Oliver
Osoyoos
Peachland
Penticton
Spallumcheen
Summerland
Vernon
West Kelowna