Aqua Hot Wash Pressure Washing
Pressure washing is one of the most efficient and cost effective ways to clean hearty surfaces around you. With wide reaching applications in commercial, residential and industrial industries, Aqua Hot Wash is sure to have a service to meet your needs.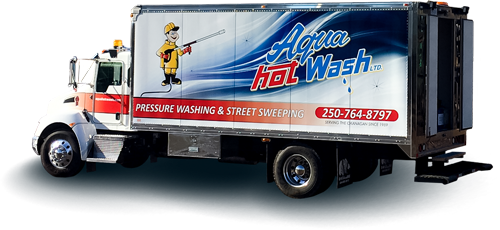 Professional Pressure Washing in Kelowna, Vernon, and Penticton
Our mobile fleet can provide service at your locations throughout the Okanagan Valley: from Vernon to Lake Country and Penticton to Kelowna.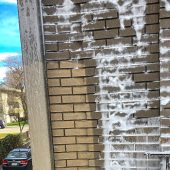 Clean Up Building Exteriors
Your properties are made of all types of material and come in scales from residential to commercial. Short or tall, wide or small, your buildings deserve the knowledge and care to address any surface to protect them and keep them clean.
Mold, mildew, allergens, the effects of animals and other environmental impacts collect on siding, roofs, crevasses and cladding. You can trust our expertise in materials and environment to deliver satisfaction in every job.
Walkways, Parking Lots and Patios
When you think of power washing you probably think of the dramatic difference pressured water can make on cement surfaces. Stripping away staining and build-up like magic, high pressure water treatments are certainly impressive. But they do more than just impress. By removing contaminants from your surfaces it can prolong the life of your pavement and preserve your curb appeal.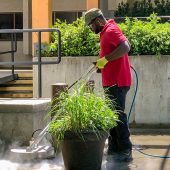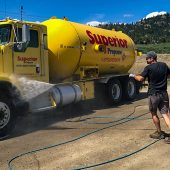 Industrial and Commercial Vehicles
Your vehicles work hard. From fleets to farms, Aqua Hot Wash can help get your rigs clean. Build up such as dirt, salt, mud and other debris get in the most difficult places, which can house some of the most sensitive systems of your vehicles. Pressure washing gets into even the smallest spaces, washing and rinsing detritus away. Not only will this protect and improve performance of your trucks, but you will keep up your professional image.
Warehouse Interiors and Parkades
Inside surfaces can take a beating due to vehicles, or the wear and tear of manufacturing. Soot, oil, rubber and other chemical residue seep into your surfaces and should be removed to protect your clients, staff and customers. Aqua Hot Wash has a number of pressure washing options and a knowledge of treatments available to suit your indoor washing needs.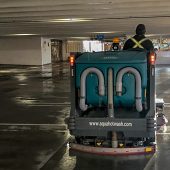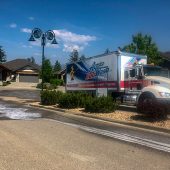 Fences and Decking
Our decks and fences enhance the space we live and work in and they deserve to be taken care of while at the mercy of the elements. Debris, dirt, mold, mildew, staining and oxidization all take their toll. Our knowledge of the correct tips and pressure for each unique job will guarantee your happiness and a successful service.
Regular maintenance on your equipment, property and buildings is important. From small jobs to commercial scale, each time you invest in protecting your livelihood, you should feel you are working with someone as invested as you are.
With a wide variety of options available, we want you to be confident in your choice. With over 30 years of service in the Okanagan Valley our expertise in this area and industry are unparalleled. Quite simply, we know how to manage any issue presented to us, and if it's something that's out of our wheel house, we will direct you to others who are experts in that field. We are confident that our work ethic and results will please you every time, and our customer service will keep you as a returning customer.
Benefits of Choosing Aqua Hot Wash

Aqua Hot Wash has been operating in the Okanagan Valley for a generation. We know our weather, our history, and what you need for your job. We ensure:
Safe Process
Professional Technicians
Professional Equipment
Easy to Schedule
Our work speaks for itself! We want you, our clients, to make the right choice for their job, whatever the size! If you'd like to see more or ask any questions we are available and happy to assist you.