Residential House Washing
A house is a home. It means so much more than just what's on the outside. But the exterior of your home is important for protecting those things inside. Be sure to take care of it by protecting it from mould, environmental build up, moss, and other kinds of contaminants.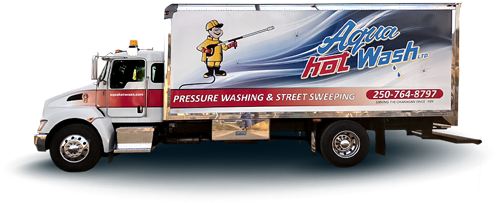 House, Property Pressure Washing and Cleaning in the Okanagan
With 57 years of combined experience working with buildings and properties in the Okanagan, you can expect that we understand the needs of your home. No matter what kind of surface you have, be it stucco, wood, vinyl, metal or glass, we know how to clean your house from top to bottom. Aqua Hot Wash is the best choice to keep your whole home happy.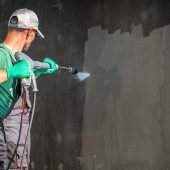 Cleaning Your Home's Exterior
You home is subject to weather, animals, fungus, UV rays and other elements, and exposure over time will leave your home looking a little worn. Cleaning your cladding is well worth the time, effort and investment. Whether your walls and roofs are brick, wood, vinyl or any other combination of products, Aqua Hot Wash has the right equipment to scrub every surface.
Paths and Gardens
Your pavers, brick and poured concrete lead you through your gardens and bring a sense of chic to your yard. Make sure they are being given the attention they deserve after serving you so well. Normal wear and foot traffic will result in these surfaces needing a good clean. From barbeque pits to pools and pavilions, your path deserve proper upkeep.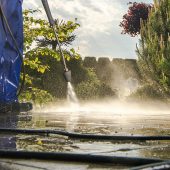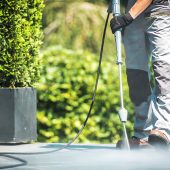 Decks and Fences
Your outside wood and composite surfaces like decks, fencing and outdoor partitions get dirty over time. They are exposed to the elements and take a beating not just from use, but from Mother Nature. Before any damage occurs, which may eventually lead to a costly replacement, you'll want to pressure wash it and keep it clean, prolonging it's life.
Driveways and Garage Doors
You may think of your front door as the first impression of your home, but if your guests are driving, many times it is your driveway and garage that make the first impression. These surfaces are overlooked and yet still take everything the elements and our vehicles throw at them. Remove build up and grime from your concrete and garage door with a power wash, either as an individual service or part of a whole home clean.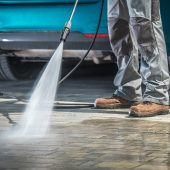 Regular maintenance on your equipment, property and buildings is important. From small jobs to commercial scale, each time you invest in protecting your livelihood, you should feel you are working with someone as invested as you are.
With a wide variety of options available, we want you to be confident in your choice. With over 30 years of service in the Okanagan Valley our expertise in this area and industry are unparalleled. Quite simply, we know how to manage any issue presented to us, and if it's something that's out of our wheel house, we will direct you to others who are experts in that field. We are confident that our work ethic and results will please you every time, and our customer service will keep you as a returning customer.
Benefits of Choosing Aqua Hot Wash

Aqua Hot Wash has been operating in the Okanagan Valley for a generation. We know our weather, our history, and what you need for your job. We ensure:
Safe Process
Professional Technicians
Professional Equipment
Easy to Schedule
Our work speaks for itself! We want you, our clients, to make the right choice for their job, whatever the size! If you'd like to see more or ask any questions we are available and happy to assist you.