Commercial Parkade & Underground Cleaning
Your commercial parkades and parking lots are the front doors to your property. They set the tone for the experience your clients can expect from you. With so many options for clients in the Okanagan, don't let this over-looked element of your property ruin that all-important first impression.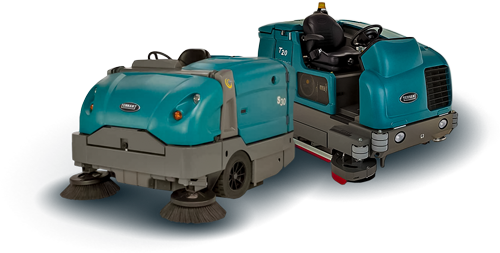 Benefits of Parkade and Underground Parking Cleaning in the Okanagan
Aqua Hot Wash can help you create a cleaning schedule during your down-time, to take advantage of your empty lots by washing or sweeping them during your off-peak or closed hours of business.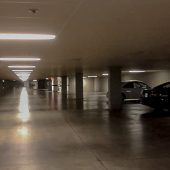 Seasonal Cleaning
Parkades or Underground Parking Garages commonly accumulate a lot of dust and grime throughout the year. In Kelowna, Vernon, and Penticton, we tend to accumulate a lot of dirt and sand from our winter snow removal operations, which then is moved by the way of our vehicles into our parking structures. This makes the need for cleaning a year-round affair, but requiring different knowledge from season to season.
Chemicals and other Contaminants
While dirt and sand are common, parking facilities also face chemical and other contaminants which may require a professional clean to ensure the longevity and appeal of your parking structure's surfaces. The correct removal and disposal of these pollutants may require a more thorough approach, one our team is trained to perform.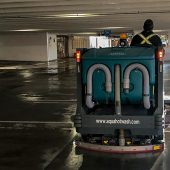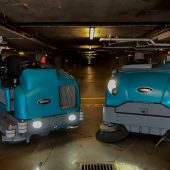 Structures and Equipment
Aqua Hot Wash's Fleet includes a variety of vehicles and machines. This allows us to complete a proper cleaning, sweep, and wash of your residential underground parking structures, commercial parkades, or municipal parking lots.
Due to a variety of different designs, some structures may not allow for full or mid-size sweeper trucks, potentially making a thorough clean a more complicated process. To handle almost any size of parking structure we have equipped our fleet with a variety of ride-on scrubber and sweeper machines. These vehicles give us the additional ability to perform services in warehouses and other more specialized commercial or industrial environments.
Protect Not Only Your Structure
Your underground and outdoor parking lots, are open to the elements, but you can protect their surfaces from premature wear and tear by properly maintaining your parking structures.
In addition, by regularly removing dirt and debris you protect your patrons, guests, workers, or tenants from various types of injuries and damages to their vehicles. A dirty parking surface can become a multifaceted hazard. Let Aqua Hot Wash help you protect your properties and the people who use them.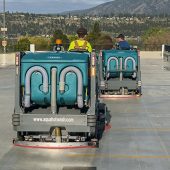 Regular maintenance on your equipment, property and buildings is important. From small jobs to commercial scale, each time you invest in protecting your livelihood, you should feel you are working with someone as invested as you are.
With a wide variety of options available, we want you to be confident in your choice. With over 30 years of service in the Okanagan Valley our expertise in this area and industry are unparalleled. Quite simply, we know how to manage any issue presented to us, and if it's something that's out of our wheel house, we will direct you to others who are experts in that field. We are confident that our work ethic and results will please you every time, and our customer service will keep you as a returning customer.
Benefits of Choosing Aqua Hot Wash

Aqua Hot Wash has been operating in the Okanagan Valley for a generation. We know our weather, our history, and what you need for your job. We ensure:
Safe Process
Professional Technicians
Professional Equipment
Easy to Schedule
Our work speaks for itself! We want you, our clients, to make the right choice for their job, whatever the size! If you'd like to see more or ask any questions we are available and happy to assist you.