Industrial Cleaning Special Project Services
Some projects do not fit the usual ideas of a standard or simple clean. Aqua Hot Wash prides itself in being able to provide our wide variety of pressure washing, scrubbing, and sweeping services and being able to apply them to almost any scenario. Special Projects are bound to be challenging and unusual so we keep on open mind and assess each request as it unfolds.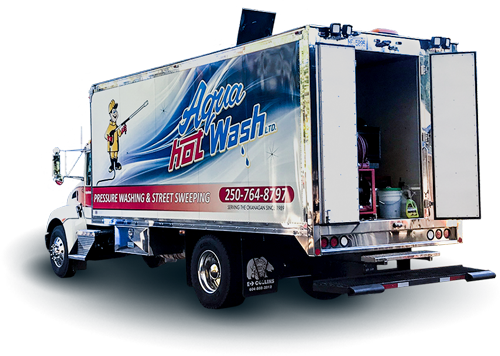 Special Pressure Washing Projects in Kelowna and Surrounding Areas
Do you have a project that doesn't quite fit into any box? Having a hard time finding the right solution? Aqua Hot Wash has performed some very challenging and unusual projects and we pride ourselves in the results.
For example, we have seen our trucks on rail cars in some of the most engaging scenery British Columbia has to offer. What an amazing and creative experience! Our teams have been deployed in unique industrial areas or otherwise unreachable regions, successfully performing their tasks all the while.
Regular maintenance on your equipment, property and buildings is important. From small jobs to commercial scale, each time you invest in protecting your livelihood, you should feel you are working with someone as invested as you are.
With a wide variety of options available, we want you to be confident in your choice. With over 30 years of service in the Okanagan Valley our expertise in this area and industry are unparalleled. Quite simply, we know how to manage any issue presented to us, and if it's something that's out of our wheel house, we will direct you to others who are experts in that field. We are confident that our work ethic and results will please you every time, and our customer service will keep you as a returning customer.
Benefits of Choosing Aqua Hot Wash

When hiring Aqua Hot Wash you can ensure that your project will be handled by professionals, efficiently utilizing industry specific equipment to achieve the best clean possible.
Safe Process
Professional Technicians
Professional Equipment
Easy to Schedule
Our work speaks for itself! We want you, our clients, to make the right choice for their job, whatever the size! If you'd like to see more or ask any questions we are available and happy to assist you.